Just for
Cookie
, as he
asked
today about what vagrants in Germany would be drinking. I suggested that, around here at least,
Hansa Pils
is popular, judging by the bottles left around the station, and Oettinger rates high in most peoples views of beer drunk by tramps (I like their schwarzbier). I reckon
Astra Rotlicht
, brewed by the Bavaria-St.Pauli brewery (correction: brewed at the Holston brewery, although the brand is still under Bavaria-St. Pauli), would be a good choice though, as it's cheap and stronger than the average Pils at 6%.
I've a good few of these in the cellar as my neighbour seems to buy it now and again. From a glass, it's got a soft mouthfeel with an apparently low carbonation. It gives a bready sweetness, a touch of cardboard (Hah! and that was before I took that photo!), a bit of apple, but overall thin and with a bit of a metallic finish. A bit of an acrid taste creeps up the more you drink too. Having said all that, it's not as crap as I thought it'd be, but a bit meh.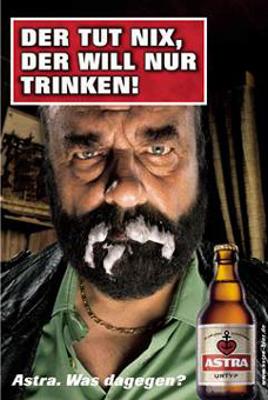 Drinking it from the bottle as I type though, it seems better than when I last had one a few weeks ago. Then again, I do have a cold. I might have another, just to be sure, like.
If I've not bored you enough, you can explore the
Astra world
, or make your own mind up about the
nature of their posters here
. That last one with the bearded guy (left) is creeping me out a bit.
Oh, I reckon Lübzer Urkraft would make a damn good ditch dweller beer too.